You have immigrated to Canada and have already acquired your permanent residency. Now you are looking forward to bring your family members to Canada. Be it your spouse, or common law partner, or grandparents, or dependent children, you can easily sponsor them and bring them to live with you.  Well, in order to sponsor them, you will need to apply in the right manner. For this reason, many immigrants are taking the help of family sponsorship lawyer.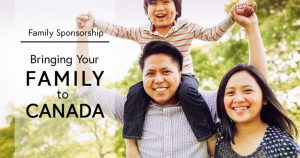 Family Sponsorship
Family sponsorship is considered to be a type of an immigration program, through which permanent residents as well as Canadian citizens can sponsor a family member or any other members to immigrate to Canada. Through this program, a sponsored person can easily live or study in Canada.
However, in order to qualify for a sponsorship program, both the sponsor and the sponsored person need to meet certain criteria. For instance, the person who is sponsoring should be above 18 years of age. They should be able to meet the finances required for sponsorship.
According to family sponsorship lawyer several policies are needed to be maintained while applying for this immigration program. For instance, in order to apply for the immigration, the attorney will ensure that the sponsor should have good economic holding. Only when the immigrant meets the condition then the Government of Canada might allow the immigrant to bring their family members.
How Immigration Attorneys Help?
The right way to bring family members or grandparents or dependent children to Canada, might not be known to everyone. Hence, taking the advice of sponsorship lawyer is crucial. The attorneys dealing with the applications will ensure the application has been rightly filed. All necessary documents have been submitted so that it meets the criterion mentioned by IRCC.
Preparing Application
A family sponsorship lawyer can guide clients in preparing the applications. They will try to see that the application has been rightly filled with correct documents. In this case, as it needs to be remembered that each set of application needs different documents, then the attorney will assess all applications are properly filed.
Ensure Qualification
While helping with the immigration application, the attorney will ensure that the sponsor qualifies for the program. Once they qualify for it, they will ensure that they enter into a written agreement with the government so that they can support their relatives or family members.

Processing the Application
The best thing about family sponsorship lawyer is that they will help clients to understand their responsibilities. They will see that the immigration office goes through the application properly. This would ensure the family members can come and settle with their loved ones easily.
Understanding Things
The immigration attorneys will help clients to understand the whole process. In case, they find their application has been rejected they can help with appeal of the application. They can help clients to understand why it has been rejected.
Family sponsorship lawyer can help immigrants to safely immigrate and settle to Canada. Once they are able to settle with their family members, they can live very happily.